love a breathing cybernetic system
Review Batch #1
Hi all, I've been preoccupied for a minute so the newsletter has been on hold. Since you last heard from me I have put out an album, contributed several blurbs to the fantastic new Tone Glow newsletter, written a few reviews for the always lovely Post Trash, and have been prepping for the release of a new Soap Ear issue! (I'm tired!)
As such, I want to try the newsletter as an occasional space for batched reviews of albums I've been listening to in addition to the usual blog-style posts. I had this one prepared for a second, but it's especially pertinent when musicians are cancelling gigs and tours left and right and need a new source of income during this time of uncertainty. If you like any of what you hear below please purchase it, even for a small amount. That's one of the best ways you can support.
Without further ado, here's some of what I've been listening to in the past few months…
Shimmer (album: And I Revel / track: "Night Vision")
Members of the much-beloved Palberta land on something somehow more revolting with this sophomore release. Shimmer, monstrous, undoes a no-wave foundation and moves beyond the progressive, crafting new forms expressively with ease. It's losing its body, undoing and remaking, raucous and iridescent. Throughout, like wretching, vocalist Anina Ivry-Block expels illustrative visions of fever dreams atop unbearable riffing. Yet, "Night Vision," the highlight I can't stay far from, has depth, is full of vulnerability. Wretching still, Ivry-Block delivers a sermon-in-song to round the album to a close: singing a capella, voice becomes recitation cracks into texture and pushes through to speech, delivering us to landing. So beautiful and strange.
Kamikaze Palm Tree (album: Good Boy / track: "Good Boy")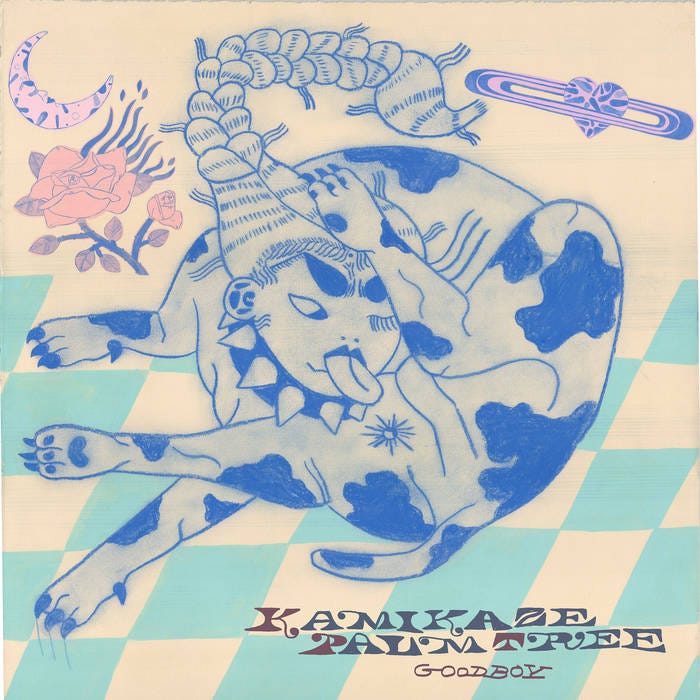 Occasionally, today, a band being a band today makes a sound that makes it sound worth being a band today, showing it to be, still, a vital instrument capable of crafting new aural pathways. I could list some but why? Instead, notice: "what if I just blow into the microphone like this [poof]." A ready tenor, voice leaking out softly, mournfully or careless. All in all entrenched in the past but wholly new. Layered jangle to this one, like a lost psychedelic collage classic brought back down to earth with sonic discipline: song form, something simple. Some channel flipping but altogether cohesive, it leads you in. Like the little creature licking its hole on the cover, it feels intimate and tender, if only a little awkward to be around. This a lost nugget that I refuse to believe with every listen.
MoMa Ready / AceMo / AceMoMa (album: A New Dawn / track: " ")
Love a breathing cybernetic system, one that gives and takes, moves in time, breaks and fissures, undoes and does again. Sleek, minimal, new. MoMa Ready's recent Gallery S, AceMo's Existential, and AceMoMa's A New Dawn, revivify classic house through ode and infusion, blending properties of jungle, dub, house, and hardcore, moving through spaces, re-queering and black again, new rooms and textures pumping across these three projects, swelling with pleasure to the point of throbbing, bursting. There's just so much to love. Gallery S breaks apart and refigures, reconstituting music from disparate sources. A New Dawn leans ecological, breathing in a lively way through distortion and sidechain compression pumping, beats arising from the swamp. Existential is stilted nicely, clean, a mechanistic performance, holding ground and moving. Samples, loops, and patterns break the grid, propel the beat and lurch forward seamlessly. Up and down and steady. A gabber restructure of a cut off of Janet Jackson's Velvet Rope sweetens the deal for this writer.
Fire Roast (album: Fire Roast / track: "Back in the Sulfur")
Another entry from the Palberta Expanded Universe (along with the aforementioned Shimmer). It's such a joy to hear these three (Nina, Ani, Lily) extend beyond Palberta and for me to learn what each brings to the trio's sound as well as how each influences the other in external projects. It feels truly harmonious and polyvocal in a way one doesn't often get to see. Here, Ryser composes pop-gleaned bass-centric prog-punk in which form seems to arise from lyrical content lending to unique phrasing and structures (reminiscent, in a way, of Frankie Cosmos' diarylike entries to twee pop, but more elements, shifting). Twee and technical, super composed. Compact riffs and cowpunk beats fit their way around summer-in-the-sun melodies, humming their way to the shore. So many moments that reach out from the quilt, deliberately bending one way or another, into new language or playfully quoting, learning others, touching.
10k.caash (album: Planet Swajjur / track: "Flip Flop")
I can't believe this isn't already what all music sounds like and I can't believe music sounds like this. This here poprap from TikTok, of TikTok, that's the thing, that's the hook. Pushing limits on the meters and losing common sense, losing good taste. Just plain silly, exciting. Really something else, disjointed in its caroling and truly so sweet.
Bad Tracking (album: Widower EP / track: "Widower")
Heavy, dark, menacing throb. Beats squirming under pressure, screams and quakes filter through the space. A dub production approach is maxed out and applied to a sort of post-industrial framework with cool and collected spoken word atop. Eerily grinning, everyone: "you keep smiling/ I keep smiling." The way feedback infiltrates and manipulates sounds. The less you say the more I look. This is the way we go out, pumping and low, one big whole.
Davey Harms (album: World War / track: "March of the Hoopleheads"
Aggressive, unrelenting and simple. White noise bursting in stutters, crunching under layers. Waves squelch, squeezed. Tempo stead like a missile. Layers of dirt awash, in circulation. Bass lines drive and lead easy, hard, a harrowing kick sits under. Drips and motion, tabla like a ping pong pattering. It grooves, bursts, and squiggles, keeps on leaving, relieving.
Andrea Schiavelli (album: Last Songs MacArthur Park / track: "Damage Speaking")
Schiavelli's music is doused in sentimentality. On "Damage Speaking," he eeks out melodically, over a driving, repetitive piano sequence, "this is the damage speaking/ can't go back, can't go back." It feels wholly troubled yet fully accepted, complete with small intermittent blips capable of subsuming anyone who grew up with a Gameboy in hand. Feeling loss and remiss and somehow sweetness, this is a beautiful addition to Schiavelli's blossoming ouvre under both his own name and as Eyes of Love. Sound-worlds expand around riff reuse and only get cleaner until they are occasionally picked apart (as at the end of "Smacked"). Minimal pop for softies, immaculately produced and carefully considered, it's only getting better. After listening, YouTube auto-played this video of Jimmy Webb performing "MacArthur Park" in which the artist boasts about all the times his song has been covered and the influence it has had. Then he rounds it out with the quip, "it's been recorded in almost every imaginable language … and the interesting thing about that is, it's so successful, and nobody knows what the hell it means… except us, we know what it means, we're here."
Ross Goldstein (album: Timoka / track: "Tiptoes In The Foam")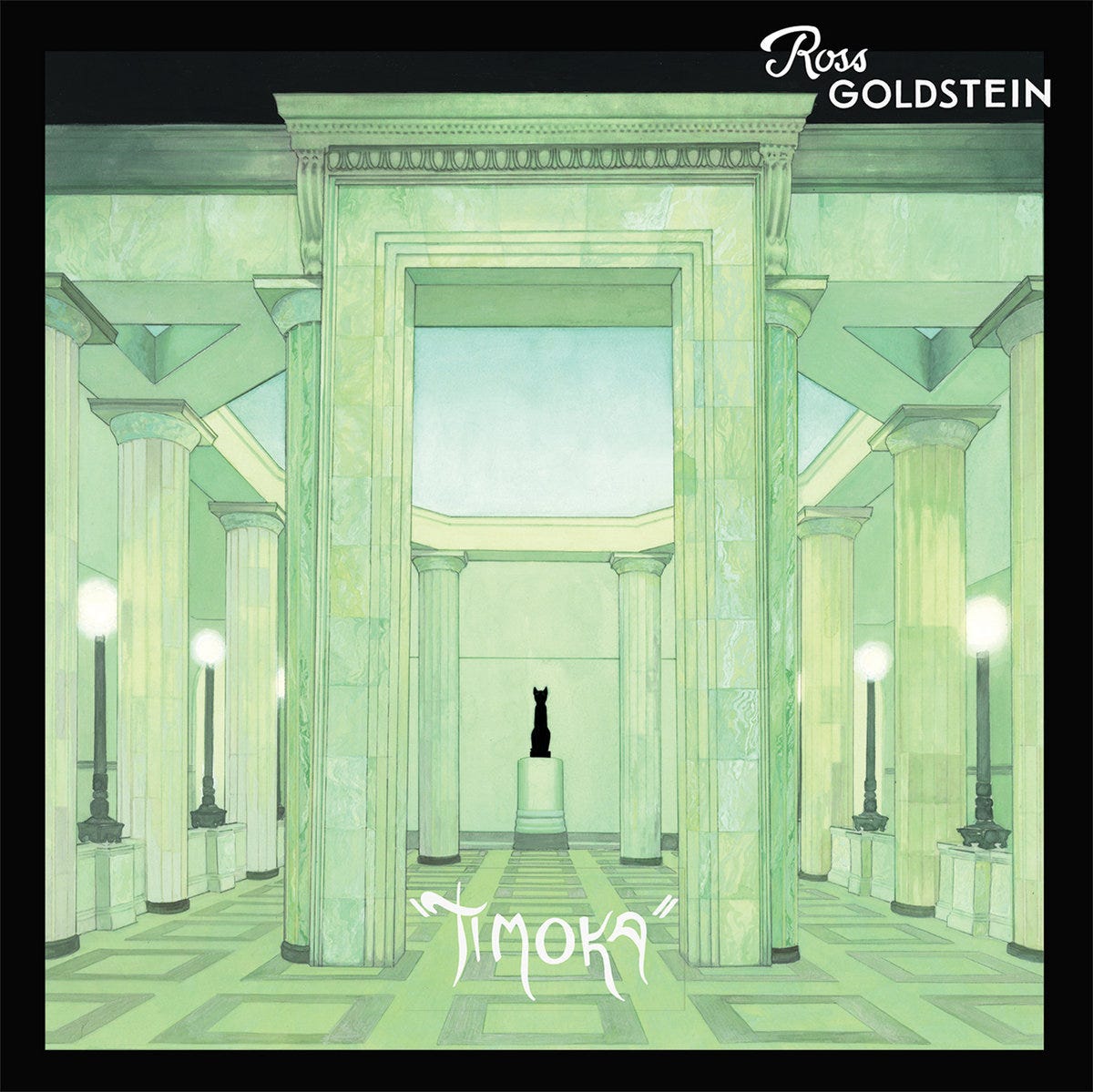 All things looming overhead. Coaxing orchestral objects out from a mellotron, steady, heavy, deliberate, and strange. Borrowed language from film scores and wandering away and back towards it. Holding ground and sitting harmonious, shifting, unsettling, and moving, leaning. Warm in texture, cold in tone.
Anthony Worden and the Illiterati (album: Voilá / track: "Voilá")
This arriving out of Iowa City. It starts with the same one note bass intro that introduces The Shins' "Phantom Limb," and that about sets the tone for the remainder of the album but maybe not a bad thing. We move quickly into the static wide-open-world smooth-rock that will resonate with Stereolab fans. Something easy but adventurous, positively smooth and clean in a way that appeals to the side of me that adores and rests on Lambchop, Alvvays, War On Drugs, Jackson Browne, Jay Som, and Future Islands. It's not challenging, but it's especially well done. Arrangements and voices drift in and out of the fabric, the base stays throughout. Perhaps the perfect metaphor is found in the midst of the album on "The Rolling Stones": The sound of cracking open a cold one while Rolling Stones play amidst ambient bar chatter. Heavy Jeff Tweedy vibes on sentimental slow cooker "Thank You" draw the album towards a close and lend comfort amidst the fear.